PIONEER CAR DECK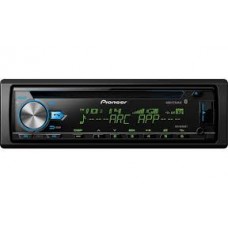 Built in Bluetooth Pioneer Audio receivers feature built-in Bluetooth enabling both hands-free calling and audio streaming with the latest Hands-Free Profile 
Spotify Spotify gives you all the music you'll ever need. Find the songs you love instantly, or let Spotify play you something great. With support for Spotify, just connect your compatible smartphone to a Pioneer Car Stereo Receiver to fill your ride with everything from classic tracks to the latest hits. Premium subscription may apply.
Pioneer ARC App 
The Pioneer ARC (Advanced Remote Control) app allows you to control select functions on your Pioneer receiver. Access functions including presets, fast forward and rewind, and artist and album search.
Smartphone Control -
Access music on your smartphone directly from the Pioneer receiver. Search for Artist, Albums and Songs using Pioneer's intuitive interface. With Pioneer receivers you can also access and control select music and radio apps on your smartphone.
3 Way Network Mode 
3-Way- Network Mode allows you to connect (via three preouts) up to three external amplifiers, dedicated to driving high-, mid- and low-frequency ranges, respectively. The result: more distinct separation of the three frequency ranges for more full, natural sound, realizing more of each speaker's potential in a multispeaker system.